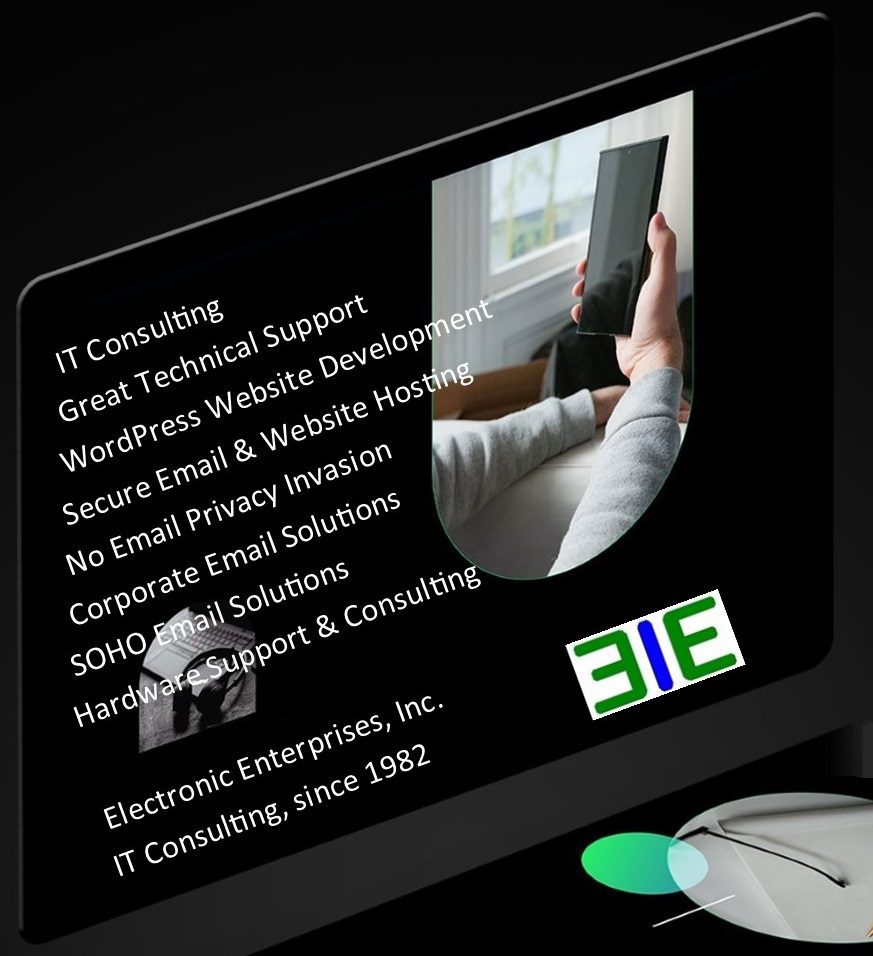 Corporate and SOHO*
Technology Consulting &
Support
Secure Cloud Service
Secure
Email / Website Hosting
WordPress Website Design

* Small Office / Home Office
Technology Consulting Since 1982
Electronic Enterprises, Inc.
151 N Nob Hill Road, Suite 331
Plantation, FL 33324
IT consulting:
hardware / software consulting & support, websites, email
Top-notch tech support:
after 40+ years we got really good at it
Secure Cloud Services:
save your publicly available files, like our EECONS Public Files folder, host a secure "file-upload" folder, or securely share files back and forth with a client. See our

Cloud Services

page for details.
Secure email hosting:
iMap, POP webmail, all email clients supported (Outlook, Thunderbird, etc.)
Website hosting:
WordPress or natively written
WordPress websites:
design, development and hosting

No email privacy invasion:
it's your private email, never sold nor shared
SOHO email solutions:
small office / home office

Corporate email solutions:
10 addresses or 1000, secure and reliable
EECONS has been providing IT consulting services for 40 years to various industries. Company size does not matter to us. On the larger-scale side of things, we designed and wrote Colgate-Palmolive's field cavity data collection systems. And we provide consulting and Email services to small and medium size companies such as IV MEDICAL (ivmedical.us – we do not host this site), Lazare Diamonds (lazarediamonds.com – we do not host this site), and Fiberglass By Design & Engineering (fiberglassbydesign.com – we host this site) plus a multitude of accountants, doctors, lawyers, manufacturers, importers, distributors, and smaller groups like JPT Scare Band (jptscareband.com – we host this site). Large, medium, small, or SOHO (small office/home office), all clients get the same top-notch level of service they need and deserve.
This is a vitally important aspect of Email, secure, with no privacy invasion. When you use a widely-known free service such as Gmail, Yahoo, AOL, Comcast, and others, your Email is far from private, which makes it not even close to secure. These services don't provide free service because they like you. What they want about you is "your value to them." Your Email is scanned, scrutinized, stored in databases, and SOLD to advertisers.
Ever wonder why you see ads for things relevant to your life that you never searched for? Your computer and phone are listening to your conversation, and your PRIVATE Email is being read and documented.
At Electronic Enterprises, rest assured this will NEVER happen. We do not read your private Email, and we NEVER sell nor share your private email address. You pay for our affordable service, but that's the end. We don't sell your soul behind your back to make a buck, you pay us what you pay us, and that's where it ends! It is YOUR EMAIL, not ours!
Your Email stays on our server so that you may access it from your computer, phone, tablet, or any device with an Internet connection. What you see on one device is what you see on the others; delete it in one place, and it's gone from the others. You can use your favorite email programs, such as Thunderbird or Outlook, our simple-to-use free webmail program, or a combination. You can use Outlook at your desk, webmail on the road, or the email program built into your phone or another mobile device. A significant advantage of IMAP is, Email in its native format is included in our daily system backups since it resides live on our servers. 
This type of Email is for those who only work in one location, so you don't need to see Email at your desk, on your phone, or in our free webmail program. Your Email is downloaded from our servers to your computer and deleted from our side. This type of Email does work better for some users in some situations. Generally, we do not recommend it.

A disadvantage of POP Email is losing the ability to view your Email at your desk, on your phone, and with our free webmail program. Once you download it, we no longer have a copy that can be viewed on all devices.

NOTE: All Email is included in our Legal Archives, so in this regard, even POP email is included in our daily backups.
Want more info or to discuss our secure cloud service,
secure email hosting or WordPress design and hosting service?
Use our Contact-Us form